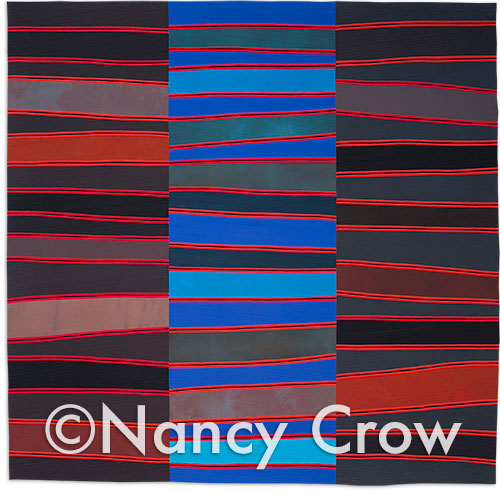 2019
NANCY CROW | QUILTS: COLOR, MARK-MAKING & ENGINEERING
• June 23-July 21, 2019
| Mansfield, OH

Mansfield Art Center

This dynamic solo exhibition of works by native Ohio artist Nancy Crow will include a group of machine-pieced & engineered geometric quilts in bold colors along with a group of small mono-prints and larger hand-screened and hand-painted works. All of these works have been created using 100% cotton, either in natural color or hand-dyed. Known both as a colorist and for her intricate machine-piecing, Ms Crow sees her work as drawings to be hung on the wall. She states that ideas flood her—more than she can ever manage—and that they are all rooted in her life experience as an intense observer, traveler and daydreamer.

COLOR IMPROVISATIONS II
Color Improvisations II
is an exhibition of contemporary quilts curated by Nancy Crow. The exhibition includes 50 spectacular large-format quilts by 44 artists from Canada, Germany, Scotland, Switzerland and the United States. The project grew out of Crow's interest in celebrating the "…majesty, strength and energy of large textile works, specifically large quilts." All of the quilts in the exhibition are abstract compositions that were machine-pieced and quilted, primarily from hand-dyed fabrics.

The exhibition premiered at the Museum Tuch+Technik in Germany in 2016, and has subsequently been shown in Spain, Switzerland and France. Note: some of the upcoming venues will display 25 works, and not all 50 quilts.

Venues & dates:

• July 13-October 13, 2019
| Huntington, WV

The Huntington Museum of Art
• January 4-March 29, 2020
| Springfield, OH

The Springfield Museum of Art


Previous venues:

• May 30-September 23, 2018
| Toronto, Canada

Textile Museum of Canada
• October 13, 2018-January 20, 2019
| Harrisburg, PA

The Susquehanna Art Museum
CIRCULAR ABSTRACTIONS: BULL'S EYE QUILTS
This touring exhibition organized by the Muskegon Museum of Art & curated by Nancy Crow, showcases some of the best machine-piecing and quilting being done today. The quilts improvise around the Bull's Eye pattern: a four quadrant design with a bull's eye at the center of each quarter. Color and design become the focus of a dazzling array of quilts. The artists were challenged to create artworks that stretched the possibilities of the machine-pieced quilt and conveyed a sense of energy and excitement. Participating artists come from across the U.S., Australia, New Zealand, Canada, and South Africa. The exhibition opened at the Muskegon Museum of Art in Michigan in August 2016.
• December 15, 2018-March 10, 2019
| Greensburg, PA

The Westmoreland Museum of American Art
• A limited number of catalogues for
Circular Abstractions
&
Color Improvisations 2
will be available at the Crow Timber Frame Barn during the 2019 art retreats.



2020-2021
NANCY CROW | DRAWINGS & RIFFS
• July 31, 2020-March 7, 2021
| Lincoln, NE

International Quilt Study Center & Museum

A decade after Nancy's work appeared in the International Quilt Study Center & Museum's grand opening exhibition, she will share some of the quilts she has made since then in a new exhibition in our West Gallery.